In today's crowded, high-noise media landscape, organic awareness isn't enough—it's the combination of earned, paid and owned media that really packs a punch. Earned media is any media or content that was free and thereby earned. Owned media is any original content published on your own channels (blog, website, social handles). Paid media is anything that was paid for in support of your brand or campaign–social media advertising, sponsored content, display ads, etc.
Paid media is a catalyst for any brand to amplify awareness. It is particularly useful for startups who want to get their name out there and build up brand recognition. Think of it like any effective digital PR advertising strategy, the more one sees something, the more frequently it's recalled. All that said, it can be hard to determine where to get started—don't fear, LEWIS is here to help!
Sponsored Content
Far fewer publications take contributed content these days, and those that do are not easy to get into. In tandem with this decrease, more and more publications offer sponsored content opportunities and those can vary in different forms. Usually, this takes shape as long-form content and is a great way to demonstrate thought leadership on issues close to your brand, and since its paid, it can be promotional. This includes but is definitely not limited to, media advertising, social media ads or native advertising. This can also take the form of podcasts, a newer medium that is rapidly gaining audiences and exposure.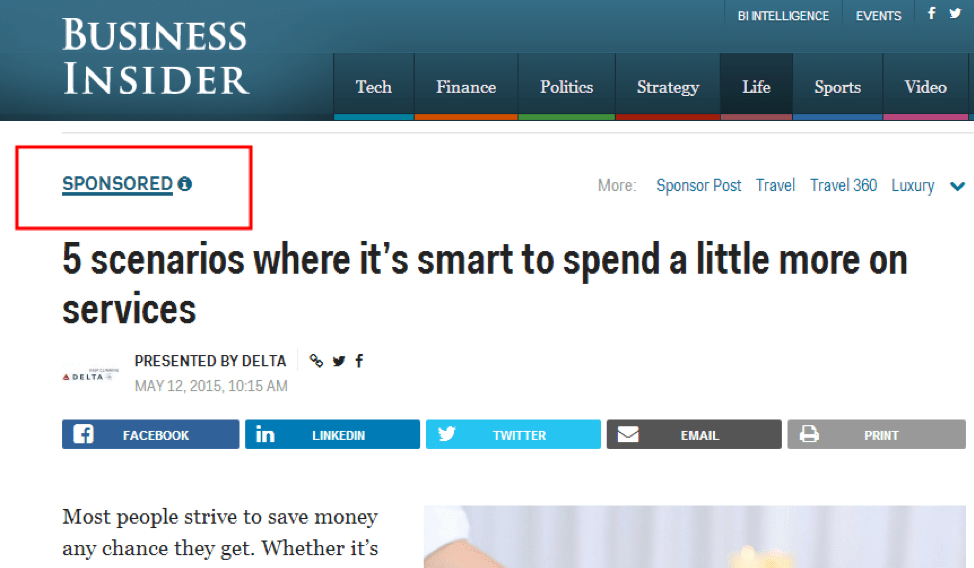 Related: Where Does Public Relations Fit in Your Marketing Plan?
A good place to start with sponsored content, especially in the B2B realm, and an opportunity we always encourage clients to pursue, is Forbes Councils. For a reasonable price, this invite-only column gives clients the freedom to talk about topics that they're passionate about, as long as it fits the overarching theme—for example, writing about technology for the Forbes Technology Council. Aside from Forbes, countless other publications offer sponsored content or native advertising options across industry verticals, from tech and business, to supply chain, healthcare and financial. Ensuring that your PR goals align with the publication's audience is key to making sponsored content of any form a success.
Ad Space
For decades, media outlets have leveraged advertising to monetize their target audience. The advent of the internet has made measuring the impact of advertising more concrete and has created more options for brand awareness. As seen in the example above, ad space can be used to promote important initiatives, not strictly brand messaging. Buying ad space within media outlets aligns your brand with important stories—for example, a VPN provider can have its ads shown alongside a story on remote working.
Social Media Advertising
It shouldn't come as a surprise that more than 80% of the U.S. population uses social media. Social media PR or social media advertising, can be an incredibly effective way to reach target audiences since so much of the population is active on social media and social media channels give clients more control when targeting ads.
Before diving into social media advertising, it's important to understand which platform your audience is spending its time. For example, Instagram and Facebook are great social networks for targeting consumers, and LinkedIn is great for targeting business decision-makers and for B2B lead generation.
No matter which option you choose, you want to make sure that you determine the objective of your campaign—is it thought leadership, awareness, promoting initiatives/campaigns, generating traffic to the site? Additionally, for the best result, ensure the outlet or social media platform is targeting the audience you're interested in, promoting the content appropriately and guarantees the number of click-throughs before it stops promoting content.
For paid media, paid social or help with your media strategy, check out our PR and digital marketing services.