Getting potential customers to interact with your business is not easy. As the competition for ad space increases, the potential for your ad to be seen gets more difficult and expensive. But if you're looking for a way to engage with your targeted audience in real time at efficient costs for your  social media marketing strategy, consider using LinkedIn Message Ads. You'll interact with more potential customers online, grow brand awareness and increase lead generation, all at the same time. Let's dive in and learn the best practices for creating a successful LinkedIn Message Ad campaign, including understanding messaging and formats and your target audience.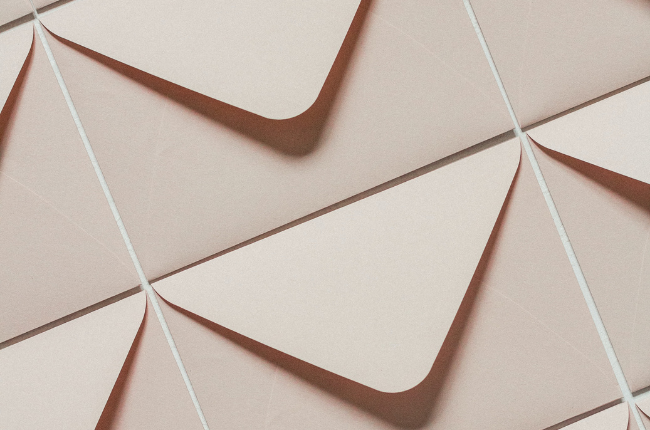 Related: 2021 Social Media Image Guidelines
What is LinkedIn Sponsored Messaging?
Sponsored Message Ads are an advertiser's best friend. They allow you and other social media marketing advertisers to reach peoples' inboxes without having to procure email lists and they display through a member's LinkedIn inbox on both desktop and mobile. Message Ads only target active users, which increases engagement, and your media spend isn't lost on an inactive LinkedIn user who would never see the message. These LinkedIn Message Ads are also charged by a cost per send model, which allows you to pay only for ads that are sent successfully. These ads help strengthen your lead pipeline, which can help draw more traffic to your businesses' website.
Select Your Sponsored Messaging Ad Format
Sponsored Messaging comes in two ad formats: LinkedIn Message Ads and LinkedIn Conversation Ads
A Message Ad (formerly known as an Inmail Ad) delivers a targeted message featuring a single call-to-action (CTA) button. You can generate conversions after setting up a Campaign Manager account using a Lead Gen Form or drive traffic to a landing page and optimize results with reporting that shows who is taking action on your ad.
A Conversation Ad allows you to deliver up to five CTAs using various types of content in a single message for a highly engaging experience. You can drive prospects to multiple landing pages or Lead Gen Forms and see how many people click on your content. This helps to determine how engaged they are in the conversation. When setting up LinkedIn Conversation Ads, Create a "choose-your-own-path experience" to help potential customers instantly access the content that is most interesting to them.
Now that we have a better idea of what LinkedIn Sponsored Messaging is, let's take a look at the best social media practices that will deliver a high performing LinkedIn ad campaign.
Choose the Campaign Objective That Will Best Fit Your Goals
Message and conversation ads are best used for four campaign objectives: brand awareness, website visits, lead generation and website conversions.
Brand awareness is when consumers become more familiar with your companies. This can include content that is created to reach potential followers on social media. With strong brand awareness, you will create enhanced engagement for your organization. While website visits are pretty self explanatory, these visits lead to more interest in your brand, which can lead to many opportunities for financial growth. Lead generation is a process that creates interest in your services, which leads to sells. Finally, website conversions are when people complete specific goals on your website, such as downloading a helpful guide after sharing email addresses, or signing up for your company newsletter. Accomplishing these goals will lead to an increased conversion rate.
The campaign objectives work well for top and mid-funnel objectives like awareness and consideration for promoting product launches or announcements, driving event registrations, content downloads or increasing blog traffic. Although there are numerous available options, it's important to understand the primary goal of your ad campaign and then select the appropriate objective. Consider your main KPIs you want to achieve as a starting point.
Customize Your Target Audience and Language
Before determining your target audience for LinkedIn advertising and to prevent audience fatigue, keep in mind a LinkedIn member only receives a message once every 30 days. Be as specific as possible in your social media targeting and select criteria you think will meet your goal: age, location, education, job title, company, skills, etc.
The sponsored message should contain clear, concise language — giving your prospective customers the information they need in pieces, not in bulk. Consider a teaser approach so the user will be left wanting more. Converse like you're talking to a friend, but also don't be too informal or use slang that is unprofessional. For LinkedIn conversation ads, set up at least two to three CTAs that users can interact with by asking questions to start that two-way conversation.
Personalization Is Key to High Engagement
Using company name in a LinkedIn message ad has proven to boost click-through-rate (CTR) by 21%. Job title personalization has also seen to increase open rates by 48%. By using LinkedIn macros, you can dynamically create ad content that is personalized for each potential customer. The user's profile information appears in the ad copy when the message is sent to their inbox. LinkedIn allows for first name, last name, job title, company name and industry personalization. Start your message ad or conversation ad with a custom greeting, like Hello %FIRSTNAME%, for a personal introduction that's more conversational and increases relevancy. But don't forget to include other macros within the body of the message. Experiment with different macros and message length within each of your dynamic ads to determine what resonates the most with your target audience.
Other Top Performing Best Practices
Perfect Your Call-To-Action
Test compelling CTAs that are actionable, like Download Now or Take the Next Step, and consider using top performing CTAs from other LinkedIn advertising campaigns as a baseline. Be sure to exclude CTAs that will allow the user to opt-out of your offer, like Not Interested or No Thanks. Also, to ensure your message ads are more interactive, add hyperlinks throughout the copy in a bold typeface. Highlight the key points or offers you want to get across to make it easier for the user to consume.
Short and Sweet Copy
For sponsored message ads, use bullet points rather than long form copy. Keeping ad copy text under 500 characters has proven to increase CTR on average by 46%. Not only is it more digestible, but your potential customers will actually take the time to read through the entire message.
The Right Sender
If possible, choose a sender from a person rather than a company page. Messages from an individual outperform messages from a company page by increasing open rates 16% as CTR and conversion rate increases 10%. Make sure the sender has a high-quality LinkedIn profile photo that is visible to the public. The more authority the sender has, the more authentic your brand will be with people on social media. Confirm the member's setting are set to either "All LinkedIn Members" or "Public" for all recipients to see it. A message without a high-quality profile photo will likely never be opened.
Leverage Visual Elements
If you have a captivating visual, add a banner image to increase engagement. Although this feature is optional and only visible to recipients viewing your ad on desktop, this space is prime real estate for ensuring your brand is top of mind. If you don't upload a banner image, another company's ad may show up in this placement.
An important tip is that when trying out these best practices, it is recommended to incorporate A/B testing as you continue to expand your sponsored messaging skills. If you test out your campaign with various social media users, you will have a better idea of the types of ads that work for your audience.
Something else you should keep in mind is to follow LinkedIn Advertising Policies. This means paying attention to rules about prohibited content, restricted content, as well as safety and privacy. Failure to follow these rules will at the very least mean your ads will not be able to reach your target audience. It is always better to act professional and respectful, than unnecessarily sketchy and shady.
As you can see, LinkedIn Sponsored Messaging has many benefits. It is an affordable advertising product to reach your target audience with high performing personalized messaging, especially for B2B marketers. Consider these best practices when creating your next campaign and start improving your brand's online presence.
Looking to boost the reach of your paid social media campaigns? Get in touch with our social experts today!