The whole world adapted to the global pandemic, requiring marketers and communication professionals to adjust their strategy and approach in 2020. Many of us took a step back, analyzed the situation in real-time and made faster decisions to ensure business continuity and maintain customer retention. The migration to digital has long since been on the agenda for brands. The pandemic only accelerated this shift. Our relationship with technology has changed as the way we work, live and interact with the world has been fundamentally transformed. Brands understood the need to activate proactive communications during the pandemic as a support for the whole business. 2020 has been a challenging year but we've learned so much in the process and will use this experience to shape the future of communication. We've even built-up stamina to prepare for the many curveballs ahead!
Across global industries, here are the top seven communication trends in 2020 and what to expect in 2021:
Increase in Re-branding and Purpose-driven Communications
This year, more and more companies realized the importance of brand reputation and have refreshed, updated or completely re-branded to adapt. With so many other shifts in marketing, it makes sense for brands to go back to the drawing board and take a good hard look at who they are, what they do and what they stand for. This also reflects expectations from customers who value brands they share common beliefs with.
As such, we have seen an acceleration of purpose-driven communications. Many brands have boosted their CSR efforts, including around diversity and inclusion at the digital workplace. Brands had to rethink their entire purpose, mission and values in the COVID-19 context. We observed a change in how brands communicate, shifting the focus to the employee to become the voice of the company and to humanize their organization. These companies made huge efforts to show more empathy, relevance, leadership and vision. Accenture Strategy's most recent global survey of nearly 30,000 consumers found that 62% of customers want companies to take a stand on current and broadly relevant issues like sustainability, transparency or fair employment practices.
Behind brands are human beings. As they have been impacted by COVID-19 directly or indirectly, brands shifted the purpose of communication from a tool to support marketing and sales to one that adds meaningful contributions to society. This trend will expand beyond selling products or services in the years to come, as brands take a stand for something they believe in. In 2021, we will see more marketing and communication campaigns become the flag bearer of these beliefs.
Lead Generation as a Priority
With pipelines under pressure, many brands are focusing more on lead generation. In many cases, they have tried completely new strategies and implemented them quickly, as timing was critical. Many brands integrated more digital tactics into their mix — spanning search, SEO, paid, direct email marketing, etc — to facilitate leads and support sales in a tough year. We have also helped many of our clients optimize their webpages to boost engagement and conversions.
Linked to re-branding, we've noted an increase in customer-first mentality, materialized by more targeted, personalized messaging and conversational marketing to stay relevant, stand out and help generate leads. This business communication trend hasn't replaced tactics aiming at retaining existing customers, but we've certainly seen a much higher focus on new tactics aiming at generating new leads this year.
With the cancellations of in-person events and trade shows, brands could not rely on face-to-face interactions with prospects, customers and partners. With a changing customer experience, brands had to find other ways to maintain customer communication and stay connected to their audience. Tapping into your brand's social networks can be a cost-effective solution. We've observed an increase in social media use from brand ambassadors, who were relying less on their brand to communicate but on being proactive in direct engagement with their audiences. Successful engagement strategies were key for brand resilience in 2020 and will continue to be crucial for 2021.
Creative Content Marketing is a Must
One challenge in 2020 has been remaining creative and relevant, without repeating what hundreds of other brands did during the pandemic. Generally, data-driven content marketing is a good strategy to lay the foundations and develop a relationship with users that will pay off over time. Brands are integrating storytelling with video content that they would use across various team functions (sales, marketing, PR) and channels (website, blog, social media channels, journalists, influencers, etc.). While companies understand the impact of video, our annual Global Marketing Engagement Index found that many of them are still not fully utilizing video content on their webpages.
In 2020, brands adapted to the changing habits of the at-home customer. Consumer behavior has changed drastically due to COVID-19-related restrictions and some of these changes will remain (increased working from home, additional anxiety, recession woes, etc). Engaging in the home lifestyle conversation is critical for brands to remain relevant in a changing customer journey. Health and wellness is key, along with a strong focus on mental wellbeing. So, how can brands collaborate with each other in this digital space to gain their credits in inclusivity and trust?
In terms of content design, 2020 has put a focus on the home monitor. With remote work broadcasted through Zoom and similar platforms, UX and graphic designers shifted accordingly to ensure every asset is desktop friendly.
Content and creative will not work solo, but will do so in tandem. Corporate communication will evolve alongside changing consumer needs. For brands to stand out and combat digital fatigue, there is an increased need to focus on content strategy and stronger planning for digital channels. Creativity will be needed across the board.
The Move to Virtual Events
Trade shows represent a huge investment for brands for the return they get. One of the best benefits from this is the ability to connect with their customers, prospects and partners. In 2020, budgets for in-person events converted into virtual events, such as webinar hosting and video conferencing. As a result, we've seen an increase in attendance at digital events. But brands had to adapt to make these virtual events more engaging and captivating than ever before. This change was not only seen in marketing, but also in PR through virtual media events for product launches.
Communication professionals have further explored live podcasts since the pandemic. Podcasts offer valuable insights, especially when highlighting a variety of speakers with different backgrounds and views. They act as virtual roundtables and allow brands or experts to convey key messages in an engaging way for listeners.
While virtual events helped brands remain visible, media relations became more superficial with a surge of internet users. An interesting move into 2021 would be to arrange informal media catch up calls to drive exchanges between the media and brands beyond product launches, in order to reconnect virtually for the time being.
Data-driven Strategies
Data was already a top tool to get insights and help comms professionals build their strategies and demonstrate the ROI and value of marketing to C-suite and the rest of the organization. But we've seen an increase of data use in 2020, as brands needed to monitor and analyze the situation in real-time to adjust approach and tactics. This includes analyzing brand perception, message pick-up, tone of voice, share of voice, social performance, website performance, etc.
In line with this, we've seen shifts toward qualitative market research in effort to gain insight around changing consumer behavior. Creative ways to gather customer data and insight emerged as a result of rapid digital transformation. Online focus groups and mobile surveys are a popular alternative in order to navigate conducting research while a majority of the world is working from home.
With the death of third-party cookies and increasing difficulty to track consumer cross platform behavior due to regulatory pressure, context will become key in 2021 and beyond as audience information becomes less available with communication technology. Conversational commerce with first party profile data will likely start to be implemented with handset manufacturers having access to the hardware that we all use. New metrics across platforms will start to emerge – as "engagement" becomes less important and "active attention" leaps to the front of the conversation. As marketers struggle to do more with less, advertisers will start to cut spends that their media investment cannot justify. 
Changes in News and Media Consumption
The pandemic changed at home media consumption with more video streaming and relevant news stories for each of us. News sites saw a high peak in April, but digital visits to news sites have remained steady since, as shown on the graph below.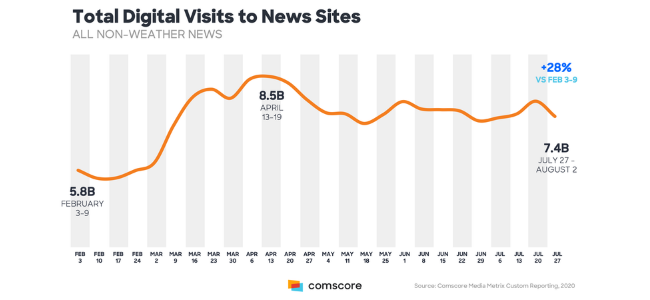 During COVID-19, global news consumption rose by 33% and news engagement across social networks increased. It's clear the humanization of news stories played a bigger role. The pandemic drove renewed interest in trusted media sources as the public turned to media for answers. We also saw around the world, people are looking for more human stories rather than those centered around a corporate or brand narrative. You can find more insights in our dedicated LEWIS white paper. The pandemic will likely accelerate the decline of print media, meaning we will see an increase in online news consumption.
A Changing Employee Experience
Effective communication, teamwork and transparency have never been more important to a company's success and employee engagement than they have been in 2020. Pushed by the evolving COVID-19 updates, there's a clear need for more structured employee communication towards all staff members and the use of apps to stay informed in real-time. We noted that CEOs view the pandemic as an opportunity to rethink the way we communicate internally. According to the KPMG 2020 CEO Outlook: COVID-19 Special Edition, 68% of CEOs said that their internal communication with employees have improved during the crisis.
In times of crisis, agile companies set solid foundations and practices that ultimately prepare them for any future crisis. Internal communication not only helps with internal transparency, but it also shapes and drives the voice and mission of the company and further improves efficiency. In 2021, we should see leaders be more proactive in using digital tools to connect their organizations and align workers to that mission. According to the KPMG, 77% of CEOs say they will expand their digital communication tool chest for greater communication and collaboration.
What's the Takeaway for 2021?
2020 was the year of purpose-driven communications. And it will continue into 2021 and beyond.
Lines between work and leisure were blurred and to keep up, marketers need more insights into consumer habits, behaviors and preferences. To deal with uncertainty, adoption of martech and other digital solutions to enhance workflow or performance were critical in 2020 and will continue to be essential in 2021. According to Accenture's latest Technology Vision research, 70% of global consumers expect their relationship with technology to be more prominent in their lives over the next three years.
Based on the KPMG report mentioned earlier, CEOs recognize that recovery from the pandemic does not mean a "return to normal." Instead, there is an opportunity to define a new future. Three actions areas will be critical: sustainability, digital and trust. Chief executives are more than willing to lead by example in these most challenging of times.
Planning for the year has been difficult with the unpredictability of this past year. From budgets to content calendars, more frequent reassessments and evaluations in any area will be crucial for greater flexibility and adaptability. Resilience from brands in 2020 depended on digital transformation. The world's largest brands were agile. Top performance in 2021 will require the same.
Find more of our expert insights for the new year:
Interested in reviewing your communications strategy or getting your brand's marketing engagement score from the year? Get in touch today.