In the wake 2020 events, all eyes were on brands this year. With stay-at-home orders still on the horizon, consumers flocked to the digital terrain and flooded social media platforms for updates, news and a sense of community. Navigating social media during COVID-19 and a new age of consumerism uncovered important lessons in social media marketing and, as a result, new social media trends emerged. In a digitally transformed year, it's clear a social media platform is no longer just for friends and families. A social media presence is crucial for brand survival.
With the increased need to adopt a social media marketing strategy into the marketing mix, brands must keep a pulse on the latest social media trends to navigate the crowded, changing landscape and to stand out from the competition.
Our social experts put their heads together to predict the biggest social media trends you'll see in 2021. Follow along below and take notes for your marketing campaign planning.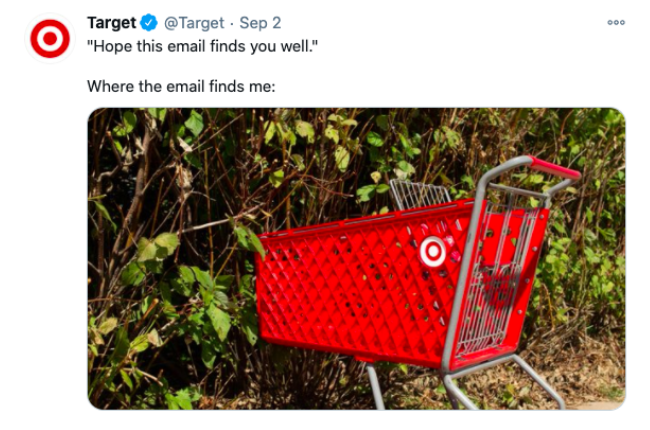 Related: 2021 Social Media Image Guidelines
You Get a Meme, You Get a Meme, WE ALL GET A MEME!
The internet could not get enough of memes this year. 2021 will be no different. Our prediction is meme-ification. Memes will find themselves tangled in the evergreen webs of social content in 2021.
It's no secret that tapping into trending social conversation is key to raising brand awareness and increasing engagement in a super saturated, always-on, rapidly changing social landscape. Fast food brands like Wendy's and Burger King opened this treasure chest to success and still stake this as their claim to fame. However, as we saw in 2020, no meme was off limits. From the hospitality industry to luxury brands, B2B tech, and even the art world, meme-ification was on many treasure maps in 2020 and will be a staple for your 2021 strategy.
For example, when Reese Witherspoon tapped into the tiring same day, same routine theme of 2020, she brought to life the "2020 Challenge."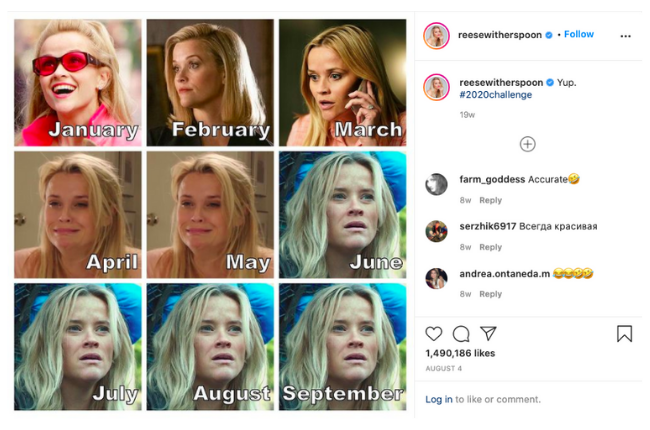 Consumer brands like Budweiser leveraged this meme and even B2B tech company, Cisco, hopped in on the fun.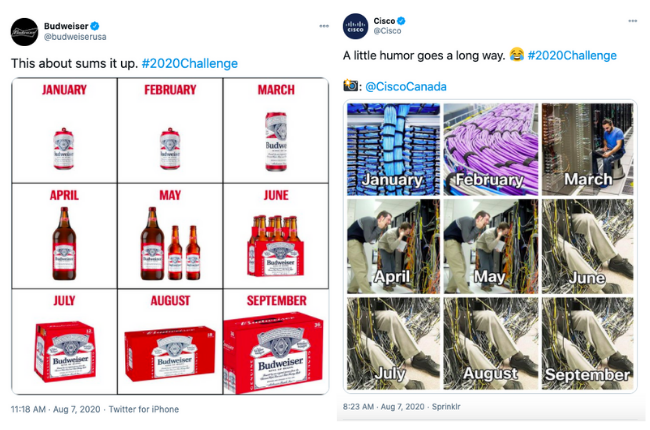 Later this year, "How it Started Vs. How it's Going" swept our Twitter feeds, proving to be a great way for brands to show off the success of their products, while tapping into the latest meme's claim to fame.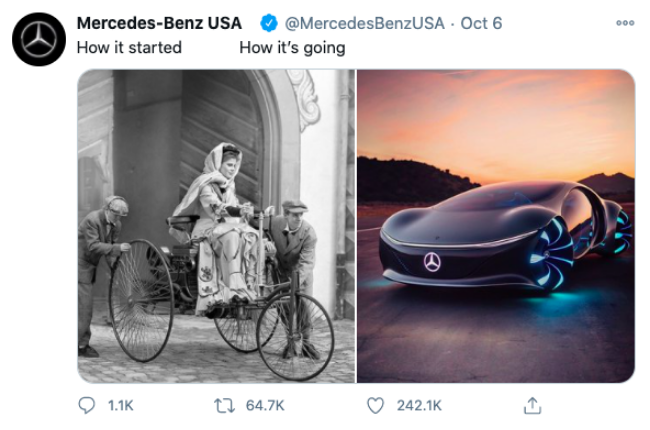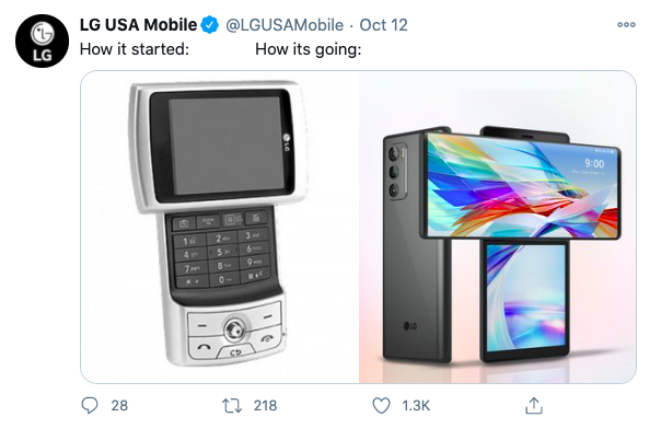 The trying times of 2020 brought a new sense of humor among audiences and brands alike with a sense of solidarity — in that we are all truly going through it together. With brands stepping out of their comfortable corners of the internet, we saw some top meme-ifications in 2020. This not-so-new social media trend will only gain more traction with the resurgence of positivity in a post-COVID world. The competition for funniest brand meme will continue to heat up in the new year. So stay on your toes, marketers! The next trending meme is already being written.
– Noelle Conrad | Digital Marketing Specialist
Events are Staying Virtual
Not to be that person who continues to talk about "the new normal," but with remote work sticking around for the foreseeable future, we know virtual events are also here to stay. That's not a prediction — just a simple fact. We predict organic and paid social teams will be tasked with finding new, innovative ways for marketing event planning to keep registration and attendance high.
When the first user conferences and events of 2020 shifted to an online format, many companies saw record-breaking registration numbers. Without the impediments of travel and budget, along with a common desire to find some semblance of normal life, these events were quite popular. However, as time went on, it became harder to break through the online noise. We anticipate brands to face  virtual event fatigue in 2021 as well. So what can social media marketers do?
Incentivize Attendance and Social Interaction
Consider handing out prizes during key sessions or doing giveaways on social media platforms during the event. Prizes should be enticing enough to draw people in and exclusive enough where users would have to be actively invested in the event to have a chance to win. 
Make Your Pre-promotions Stand Out
From small tweaks to creative assets all the way to full-blown video campaigns, there's a lot that can make event promotions stand out on social media. Keep an eye on what competitors are doing and make sure your creative is different via color choices, illustrations vs. stock photos, animation and so on. If your company has a great spokesperson, work with them to create videos talking to prospective attendees. You can even ask users what they want to see at your event.
– Amy Newton | Digital Marketing Manager
Real-Time Social Media Activity
2020 introduced and normalized consumer comfort with brands putting out lower production quality social media content. In 2021, we'll see them take this a step further by leveraging the quick-digest and real-time formats to promote their products and/or services.
In the wake of restrictions on travel, in-person socializing and large-scale events, we're seeing social media channels create new features to make up for experiences and quell "FOMO" by attempting to recreate the rush of enjoying an exciting life moment with others. LinkedIn is piloting a social media stories feature to provide their users with more rapid video content. Twitter introduced Fleets. And now, Facebook has turned Instagram into a mainly story-based platform by changing their algorithm to promote a quick share, Instagram Reel or Story over permanent posts.
With the majority of social media users confined to their homes, attention spans have decreased, but desire for involvement and new content has grown. To stay relevant with your target audience and avoid becoming an albatross, your brand will need to pivot promotional strategies to align with these needs. Creating an engaging social media strategy for 2021 starts with understanding this change in consumer behavior. Whether through Facebook Ads or organic tweets, we're going to see advertisers condense their messages to fit channel character count restrictions and trade long-winded testimonials for video snippets and viral customer reviews.
If a consumer cannot internalize brand messaging and purpose in a social-first package, their ability to relate will plummet and eliminate the motivation to invest their time or money. Whether you're a B2C or B2B marketer, 2021 will ring in the era of succinct and quippy content for paid social efforts in all industries.
– Emily Kopp | Digital Marketing Manager, Paid Media
Viral Video
People are spending more time on their phones this year than ever before and marketers can expect an increase in mobile engagement next year, averaging four hours per day. While videos aren't new to the marketing game, the growth of mobile engagement is. The sheer volume of mobile users, combined with daily video consumption, makes video advertising an essential part of marketing campaigns in 2021. People want direct communications as fast as possible and video ads are here to stay.
With the rise of short videos through social media platforms and increase in virtual events, video content beyond just a YouTube channel is more important than ever. With a new, popular social platform, like Instagram Reels or TikTok, users are expecting easy-to-watch, short-form video ads, especially on their mobile and tablet devices. While social media counts for 25% of marketing budgets in 2020, video ads are predicted to jump to $14.89 billion in 2021. Considering social media has one of the largest user bases, social media video advertising opens a whole new world for engagement. So, whether you have a strategy in place or are starting fresh, consider video promotions for next year's budget. The perfect video length for social media might vary depending on the social channel — but, always remember to keep them concise, conversational and, most importantly, actionable.
– Hannah Cates, Digital Marketing Manager
The countdown to 2021 has already begun and we're looking forward to uncovering what the new year has in store for the fast-paced world of social media marketing. A savvy social media marketer knows that a highly competitive social landscape requires an equally dynamic social media strategy to stay in the game. Now that you're ahead of the coming social media trends, leverage these insights and plan for the best possible experience for your brand's target audience.
Check out more of our predictions for 2021:
Need help putting your 2021 social media strategy and initiatives together? Contact us today.