The changing behavior of at-home consumers marks a new digital age for marketers. With a new flood of followers to their screens, there is no doubt that video marketing is one the biggest opportunities for your brand. Global video content consumption increased a staggering 60% last year. Video views are now top-of-mind for tracking social media metrics. From your Facebook feed to Instagram Reels, online video storytelling continues to shape the digital landscape and social media trends with it.
With social video dominating our newsfeeds, ensure your library of masterfully crafted video assets reaches a wider audience by including it into your social media content strategy. Tailor your video content to social platform specifications and audience behavior and update your video marketing strategy with these best practices.
Related: How To Make Cinematic Videos for Your Next Campaign
Short Is Sweet
The perfect video length for social media varies across platforms. The common denominator is brevity. Short cuts (15-30 seconds, with the sweet spot being 15) allows your brand to effectively leverage every desired social media platform across paid and organic placements. In some cases, social promotion of teaser cuts will drive traffic to the full versions of videos embedded on blogs and/or landing pages, so users can experience the best of both worlds.
Telling a story in a short amount of time can be challenging, consider this structure:
Part 1: Establish characters, a problem and objective — something that is the catalyst for change
Part 2: Protagonist pursues their objective
Part 3: Resolution
Multiple Cuts
Multiple cuts in your social media video library ensures that there is a variety of content on hand. It's best practice to have between 2-6 different versions in paid and organic social. While short is sweet in video marketing, that doesn't always mean we have to fit the narrative into 15 seconds. Consider teasers, video snippets, b-roll and graphics. Tell your brand story with motion graphics and existing B-roll when necessary.
Video Length "Sweet Spots"
Note​: While organic has more leeway, the social cuts "sweet spot" is usually the paid spec.
Platform

Video Length "Sweet Spot"

Other Specs

Facebook

Video Length Minimum: 1 second
Video Length Maximum: 240 minutes
Recommended to limit text in video thumbnail images and creative

Instagram

Stories: 15 seconds
Video Ad: 25 – 30 seconds

Instagram Video Posts​: Up to 60 seconds
Video Post to Your Instagram Story​: Up to 15 seconds/sequential after 15 seconds
Live Video​: Up to 60 minutes
IGTV Video (uploaded from the separate IGTV app)​: Up to 60 minutes

LinkedIn

Organic Placements: 3 seconds – 3 minutes

Twitter

Video Length Maximum: 2 min 20 seconds

YouTube

Pre-Roll: 6 seconds max
True View in-stream ads: ​12 seconds to 3 minutes (> 30 seconds recommended)
Related: 2021 Social Media Image Guidelines
Three Seconds to Wow
Social media videos should aim to grab an audience's attention within the first ​3 seconds. Most users are scrolling through a long feed on a small screen. Hook your target audience from the start with something that sparks interest, inspires curiosity or catches them off guard. Then, cut to the chase.
Social video usually auto-plays. Viewers see the beginning of your video without having to press play, giving you the chance to pull them into your content by leading with your most compelling visuals.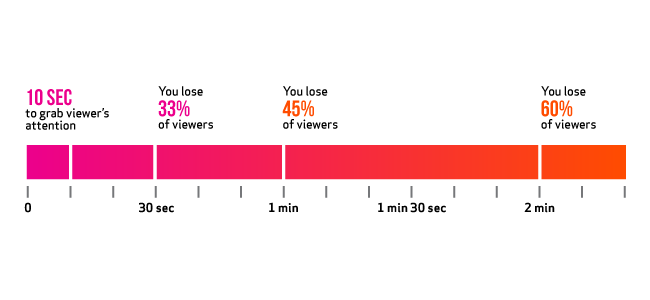 The Move to Mobile
Over 85% of all social traffic is on mobile. To keep up with the trend, test a vertical video format to optimize for mobile and avoid users having to tilt their phone. Simplify graphics so they pop on a small mobile device screen. Think vibrant colors and high impact font to capture your viewers' attention.
To compete in a feed of picture-perfect social images, choose a compelling thumbnail. Encapsulate the theme or message of your video so a user is enticed to watch or engage from the start. Ensure your image is well-framed and consider leveraging the ​rule of thirds​.
Sound Off, Subtitles On
Autoplay videos on social media usually play without audio. Subtitles are essential to ensure your video content works without sound. Videos created for silent viewing are 70% more likely to be watched. If you're utilizing voice-overs, add captions or subtitles with graphic text overlays to highlight key points and ensure your message is being relayed. Captions can also keep followers engaged.
Branding From Start To Finish
People are predisposed to remembering the beginning and end. To help with brand recall, include your brand logo at 0:00 or in the corner throughout your video. Lastly, include a clear and compelling call-to-action at the end that's personal, straightforward and actionable.
Interested in adding video to your social media strategy? Take a look at our creative services and contact us today.